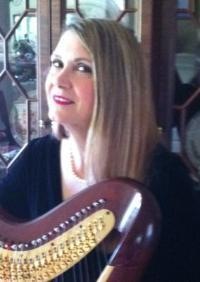 Elegant Harp Music for Weddings
Receptions & Parties

Serving Lower Bucks County,
Philadelphia, PA
Princeton, NJ Areas

Professional Harpist Robin Arioto Fickle is an acclaimed performer, teacher of the harp, composer and recording artist. An experienced musician for over twenty-five years she has regularly performed for weddings, receptions and special events to the delight of her audience. She plays both Concert (Pedal/Orchestral) and Celtic (Lever) Harp. Her musical style is elegant, accessible and innovative. In her hands the sonorous capabilities of the harp are masterfully expressed. Her repertory is diverse and spans the centuries from Medieval/Renaissance to Modern and can be tailored to the special interests of her clients who may prefer Medieval, Renaissance, Baroque, Classical, Romantic, Impressionist, Traditional Music of the British Isles or music of contemporary flavor.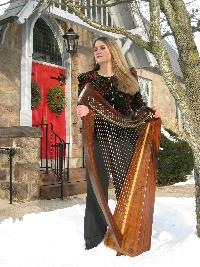 Absolutely fantastic! The selections were perfect and Robin's music added an extra special elegance to our daughter's wedding ceremony. I would highly recommend Robin to anyone looking for a top notch professional harpist. - Betsy M

I never took the opportunity to rave about the outstanding services that was rendered. Robin did a fantastic job at my wedding in August , I never had any problems working with Robin, she remained in contact at all times (even while traveling), showed up on time, helped with the music organization and even composed a very special song I had requested. The ceremony at my wedding was beautiful and she really helped to pull all the elements together. I had quite a few regrets about my wedding (as expected with weddings) but Robin was actually one of my best choices - Thank you very much - I highly recommend her !!! - Shanelle G

I just wanted to let you know how many nice compliments that we got regarding your music from not only our investors but also some of the staff at McCarter's Theater who were working down at the other end of the building and who could hear your music floating up the halls. So I thought you would appreciate hearing that. I do appreciate what a wonderful job you did for us on Thursday night. It seems so long ago already. So I hope you got home safely and enjoyed the play! -Oona from Advanta Corporation

Having lived in Bucks county over 20 years I was so pleased to find Robin was available to play at my daughter's wedding. The venue was the Bridgetown Mill House in Langhorne, Pa, which is historical in nature. Having Robin play for the ceremony was perfect for the setting. She exceeded any expectations I had and helped make the wedding the perfect experience that every Mother wants for her daughter. I would have doubled the five star rating I am limited to in a heartbeat. Very highly recommend her. -Elizabeth R

I can't thank you enough for being part of my daughter's wedding. Your music made her ceremony so special! Kate said that as she and her Dad opened the doors of the church to start their procession she had the sensation that she was in heaven- the sun light was filtering in, she was dressed in white, looking at all the smiling faces of everyone she loved, the harp was playing--everything one would ever imagine heaven would be like! How's that for a compliment?! Thanks again and let me know if you have any other weddings or concerts in the area, I would love to just come and hear you play. -Betsy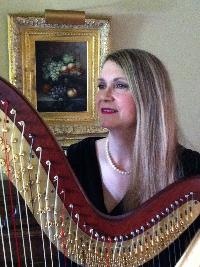 Thank you so much for being a part of our special day and for helping us create such a beautiful ceremony! You were wonderful and the song you learned was perfect! Everyone was talking about how beautiful the harp was! Thank you also for the kind note and CD! You are too sweet! All the best to you! -Vanessa and Josh

Robin is wonderful and such a pleasure to work with! She performed at our company's grand opening event and we were very pleased. Robin has a great spirit, was very accommodating and plays beautifully. I would highly recommend her and would call upon her again in the future! -Porsche S

Thank you so much for the lovely music at our wedding. Our ceremony was fairly standard, but your music made it so much more. You gave the day that special extra magic that made it wonderful. Thanks too for your thoughtful card (with inspiringly-great handwriting!) and fun CD. Thank you and take care, -Justin and Kate. p.s. Our guests loved the music too, we got many compliments on it!

We want to thank you so much for a fantastic job at our wedding! ...the ceremony music was perfect & the cocktail reception was fabulous. We received so many compliments on "that wonderful harpist!" -Maureen and Chuck

Sorry for the belated thank you but I just wanted to tell you how beautiful your music was at the shower! You did such a fabulous job and everyone felt the harp added such elegance to the shower. I will definitely keep your card for any future events we have and pass along your info to others! -Meghan

Thank you for Saturday...for helping create the perfect atmosphere for this special day. The harp music was the most beautiful sound... and I understand we had a lot of tears in the audience. -Deb and Art

Robin was terrific. She was easy to work with, accommodating and played beautifully. She would be a definite plus for your next affair. I recommend her highly. - Suzanne F

On behalf of the Lower Makefield Society for the Performing Arts, I wish to thank you for the beautiful performance you gave to the society and our township yesterday. Your knowledge of history about the music you played along with your superb artistry gave all of us a rare treat. -Mary B

Love, love, love your harp playing! Your choice of music especially ministered to my husband this evening, who was in a bad way coming into the course. He is a huge Irish music fan and County Down tune melted him :-).- Lisa K

Your presence and superb performance at the Christmas dinner played a major role in an exceptionally successful event. - Mer

Just a note to tell you how much I enjoyed the concert your gave at the township building last week. The music you chose was so lovely-and it showed so much of what the harp can do. And I loved your explanations. They were great! God has given you a very special gift, and you are very kind an generous with it. -Ursula

We were delighted to find Robin Arioto Fickle thru GigMasters -- she is a talented performer and extremely professional and personable. I would not hesitate to recommend her. - Sheri P

Just a note to thank you for sharing your wonderful talent with our congregation on January 1st. The music from the harp was beautiful. All of us were moved by your gift of music. -Anne

Robin was the harpist who performed for our June 15 wedding ceremony. She was very easy to work with from the very beginning to the day of our wedding. She showed up on time, was very courteous and kind, and her music sounded lovely. I would definitely recommend her to other brides for their weddings. Thanks, Robin!- Michelle G

Thank you so much for providing the very beautiful music at the wedding. I cannot wait to get the video so I can hear everything that happened before I entered :-). Also, thank you for the wonderful CD-I have been listening to it while I cook. Very soothing. Thanks again. -Suzanne M

Great job! Thanks for your willingness to adjust your schedule to meet our needs. Everyone enjoyed the music. -Marlene

Thank you soooo much for coming to our center and sharing your beautiful music! People enjoyed it very much... -M.R.S.K.

After people made a point to tell me how much they enjoyed your performance last Wednesday ...I didn't want to wait a day longer to thank you again for playing and singing so beautifully. It was truly a treat to long remember. -Marjorie

You made our day so special with your beautiful music. Thanks for sharing your gift with us! -Denise and Dave

I want to thank you so much for entertaining everyone at our St. Patrick's Day party...we certainly enjoyed your playing!...your music selection was great...thank you so much, you were a great hit at the party. -Ellen

Thank you so much for blessing us with your beautiful harp music. We're so happy you are a part of our special day. -Donna and Ed

I can't tell you enough how much having a local musician play at Jessica's wedding means to us. Thank you for your beautiful music and professional manner. You are the best! Thank you. -Beth and Jack R

Robin was very professional and accommodated our requests. I would happily recommend her to friends.- Andrea M

Many thanks for blessing us at Val and Nick's wedding. Our guests loved the harp music and the whole day. -Jane C

Thank you so much for playing your heavenly music at our wedding. Lauren and Juan A

Thank you so much for adding to our wedding day! The music was wonderful ... and the CD gets played almost every evening - Thank You!! Chrissy & JD

Thank you for playing the harp at our wedding. It sounded so beautiful! ...You are very talented! - Becky and Shane

Thanks again for your beautiful music.... -Jen

You are a talented musician.... -Pat