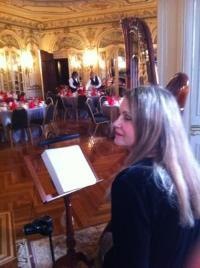 Professional harpist Robin Arioto Fickle serves the Lower Bucks County, Philadelphia, PA & Princeton, NJ areas where she regularly performs for weddings, receptions & special events. For over twenty-five years Robin has been acclaimed as a performer. She is also a composer, having published five books of harp music for pedal and lever harp, and a recording artist (see below). She also teaches harp from her private studio in Yardley, PA and occasionally gives concerts and lectures locally.

Robin's musical style is elegant, highly sensitive, very listenable and creatively innovative. The sonorous capabilities of the harp are masterfully expressed through her fingertips. Her repertory is very diverse and spans the centuries from Medieval & Renaissance to Modern and can be tailored to the special interests of her clients.

Robin began her classical training in music at age five on piano. She pursued her orchestral harp studies with the former chair of the American Harp Society's National Competition, JoAnn Turovsky, Adjunct Professor of Harp at the University of Southern California and the late Suzanne Balderston, former faculty member of the University of Southern California at Santa Barbara and California State University, Northridge.

Robin achieved recognition as a composer and recording artist. Her debut recording of original compositions and adaptations of the traditional music from the Mediterranean world, Mediterranean Journey, received critical acclaim on radio and in reviews. (For select reviews and accolades see below).

Robin has written five popular music books for harp. Her most recent publication, "Renaissance Gems," is an intermediate to advanced level collection of some of the most famous pieces of the Renaissance era. Most of these compositions have never before been arranged for harp. Her other two Renaissance books, "Renaissance Songes of the Merrie Cavalier" and "Renaissance Songes of the Merrie Jester," are written for the beginning to intermediate level harpist and many of these pieces have not previously been arranged for harp. Robin's three Renaissance books consist of sweet love songs, cheerful dance tunes, and celebrated lute pieces that are particularly well suited for elegant parties, dinner receptions or garden weddings. Her holiday music book "Christmas Jewels," is an intermediate level book devoted to traditional European carols. Several of these hauntingly beautiful melodies have not previously been arranged for harp. For wedding ceremonies Robin's book, "Wedding Wishes," is an intermediate to advanced level book devoted to classical wedding standards. However, this book also contains many pieces typically not found in wedding music anthologies, such as celebrated pieces from well known operas, joyous melodies from the Renaissance era, as well as several Early American trumpet tunes and other stately pieces well suited for ceremonies. Several of these pieces have not previously been arranged for harp. (For select book reviews and accolades see below).

Robin's recording and harp music books can be ordered through harp and music stores internationally.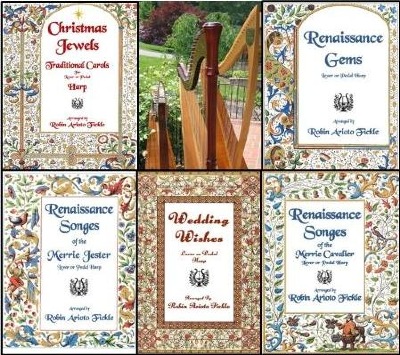 Music Review, "Tales from the Crypt: Sifting Through the Dusty Piles for Harp Gold," by John Wickey, Harp Column, vol. 22 issue 3, Nov.-Dec. 2013, p. 44, regarding Robin's book, Renaissance Gems:

"I was looking for comparable finds for lever or folk harp, and I asked my friend Cheryl Slaughter who performs a lot of early music. She recommended Robin Arioto Fickle's Renaissance Gems. With titles like "My Lady Hunsdon's Puffe," "Of all the Birds That I Doe Know," "John Come Kisse Me Now," and the like, I could do nought better than grab a tankard of ale and my lever harp and pretend I was a minstrel for an hour our two (in the privacy of my own home).
Robin has done a remarkable job with her collection. The arrangements are rich and the selections interesting. The arranger provides composer biographies, notes about the pieces, but most importantly, she includes suggestions for tempi and dynamics which make it much easier to shake the dust off the manuscript and bring the tunes to life."

From Sylvia Woods Harp Center website from 2011-2013:
"Just want to tell you how very much I'm enjoying my new book of music you've arranged. The pieces are a joy to read thru, and I really appreciate that many of your selections are of pieces that I've not seen in all my years of poring through music. The Dowland ones, though familiar, are rare for the harpist, and I'm so glad to be playing them finally. Many thanks from Mary K from Nantucket."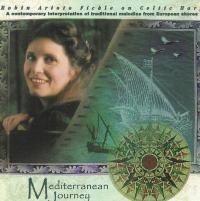 Robin's recording of original compositions and adaptations of traditional music from the Mediterranean world, Mediterranean Journey, has received critical acclaim on radio and in reviews:

"This wonderfully thoughtful album (Mediterranean Journey) explores the music of the peoples and countries surrounding the Mediterranean Sea. More than a 'musical journey' in space, it is a journey in time as well. Carefully crafted, and meticulously produced, this album brings the ancient sounds of Judeo-Spanish, Greek, Andalusian, Ottoman, and Aegean cultures into the modern world through Robin's personal interpretations and arrangements. ... Visit the Mediterranean shores with Robin's recording. You'll be delighted that you made the trip!" - Debra Knodel, Folk Harp Journal

Mediterranean Journey is the CD that I have listened to most frequently this year. ..she plays with an intense virtuosity, but also communicates a passion in this music that gives me goose bumps. Highly recommended. -KVMR Program Guide

Robin's playing is flawless and captures the emotion that must have gone into the original writing of these romantic melodies. The sound quality is that of an ancient stone chamber, in which the harps ring with rich tones and overtones. I highly recommend this album as an addition to any collection..." Debra Knodel, Folk Harp Journal.

The sweeping spontaneity of these selections is captivating...the music draws the listener into a relaxing and meditative framework..." -Sampler Records

We play folk music from around the world and this CD fits into our format as an alternative to Irish music on the harp. Beautifully played and beautifully recorded. Great stuff!" Margie Mirkin, host of Folk Roots KSBR,

I just had to drop you a note to tell you how much I enjoyed your new CD. What beautiful music! Played with such feeling! My mom said, "I could listen to this all day." And that's a direct quote. I must concur it now joins the list of CDs most often dropped into the player. -Lowri

I can't tell you how much I've enjoyed your CD already! These cozy nights at the fireplace, your mesmerizing music playing-ahhhhh! -Jan